WHY OCHSNER?
40 years and still operating perfectly - No other heat pump company can claim this record!
Installed in 1979 - Just one of many 1,000's of OCHSNER heat pumps working 40 years later
We are often asked by potential customers 'why should I go with an OCHSNER heat pump as it is not the cheapest?' The answer is simple, pedigree and an unrivalled track record that sits head and shoulders above all other manufacturers. The OCHSNER Austrian manufactured heat pumps are not built to last 7-10 years and have the real world track record to prove this. Unlike other manufacturers which may have a 10-20 year track record of making heat pumps only as part of their business, OCHSNER focuses solely on making the highest quality heat pumps and they were the pioneers of heat pump technology in Europe in the 1970s. As a family run and owned company, they have been making compressors as far back as 145 years ago when the original Mr Karl Ochsner first set up the company.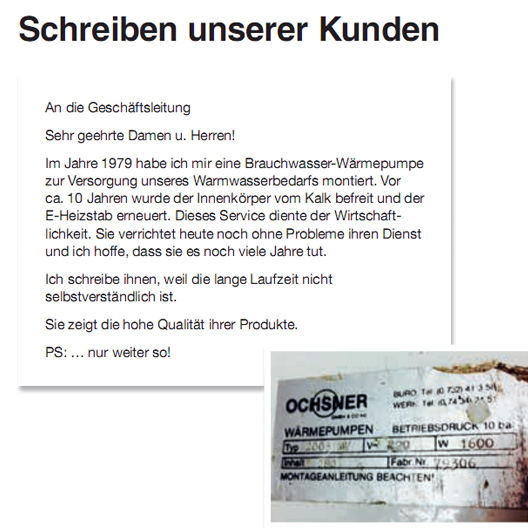 OCHSNER regularly receive letters of thanks from customers who have been using OCHSNER products since 1979. We are quite proud to be associated with this type of pedigree and which is unrivalled in the heat pump industry. The contents of the letter are translated in English are as follows:
-----------------------------------------------------------------
To whom it may concern
I had installed a heat pump of Ochsner in my home since 1979. About 10 years ago, Ochsner had done a maintenance to recover the efficiency of the pump, which was to removed limescale and changed the electrical heating rod. Until now, the machine Still keeps working. I hope it can continue to be used for a long time.
The reasons I write the latter is because it is hard to find such a machine can serve for people so many years. I have to say your production really has an amazing quality.
Hope your business getting better and better.
Best regards
Anonymity
To the leadership of your company,
Dear Madam/Mr.:
In 1979, I installed an OCHSNER hot water heat pump. About 10 years ago, in addition to a scale, the electric heating rod was replaced and the machine resumed its efficiency. This device is still in normal use until today. I hope that it will continue to be used for many years.
I am writing to you because it is really rare for a heat pump manufacturer to have such a long service life.
This shows that your equipment is of high quality.
Please keep it up!